MORO STYLE COOKING WITH Laura and Henry from Favorita
Saturday 13th April - Saturday 20th April 2024
AIEEE !!!! " FAVORITA "AS SEEN IN THE TIMES - SEPTEMBER 22ND 2023 - TOP 25 FOODIE VENUES !!
https://www.favoritapresents.com/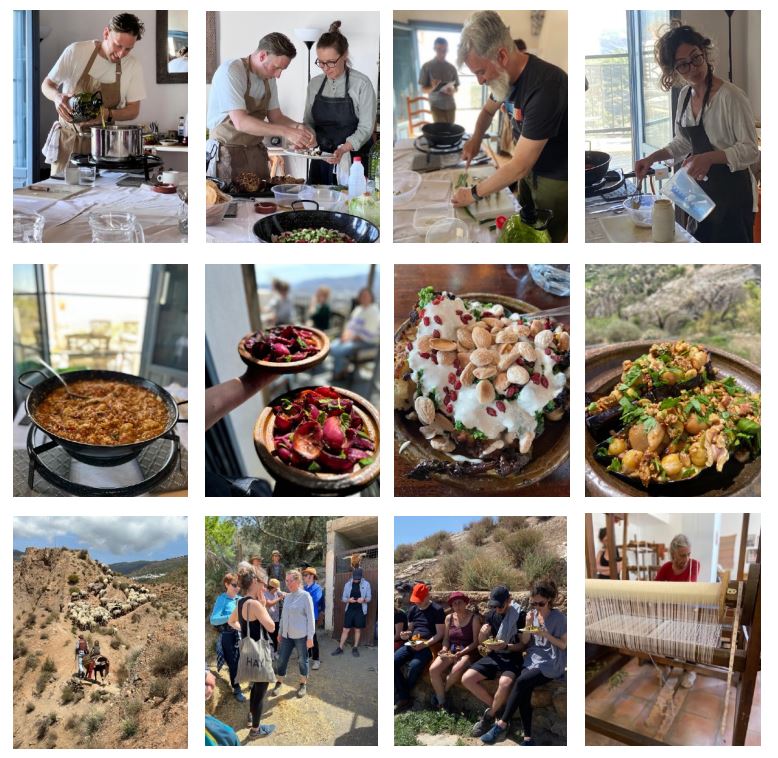 Moro style cooking with Laura and Henry 13th to 20th April and 6th to 13th October
We are super pleased to be welcoming back Henry and Laura from Favorita, who will be hosting their second
cookery retreat after a very successful debut at Las Chimeneas in April 2023
The two of them have spent time travelling through Spain, experience that is channeled into the menus they
create for their clients and supper clubs, whilst Henry was also formerly head chef at Moro and Morito in Exmouth
Market, London, where he gained his understanding of Andalusian style food. The variety of recipes that you will
learn to cook with them reflects this mix of influences and aims to make the most of the fantastic local seasonal
produce.
Your week will begin with a welcome dinner cooked by Henry and Laura. The week will comprise of four hands on
cooking classes and one demonstration as well as the opportunity to do some sherry tasting with them. All other
meals will be provided by Conchi and her team here at Las Chimeneas. Interspersed with the cooking will be
walking, foraging, a day out at the market in Granada and a chance to visit the Alhambra (upon request) and a trip
to our local Jamon producer and silk weaver.
They received great feedback from their previous retreat, please check them out at www.favoritapresents.com
The price is £1250 euros per person. £200 supplement for double rooms used as singles
There will be a maximum of 12 people in the group.
To read more about the lovely Laura and Henry please follow this link
Cancellation Policy:
Deposits: All deposits are non-refundable and non-transferable.
Full Payments: For places paid in full and then cancelled the following applies:
More than 2 months before the start of the course: 100% refund less the deposit.
4 to 8 weeks before the start of the workshop: 50% refund less the deposit.
Up to 4 weeks before the start of the workshop: No refund will be given.