Qigong with Pauline Russell NEW!!
Saturday 12th September - Saturday 19th September 2020
Quigong with Pauline Russell
We are delighted to welcome Pauline Russell to bring our very first Quigong retreat at Las Chimeneas.
Pauline is one of three (and the only woman!) Senior instructors of the Chinese Health Quigong Association in Ireland so not only has her own group of devoted students but is also qualified to instruct teachers at the highest level.
Please contact us for more details.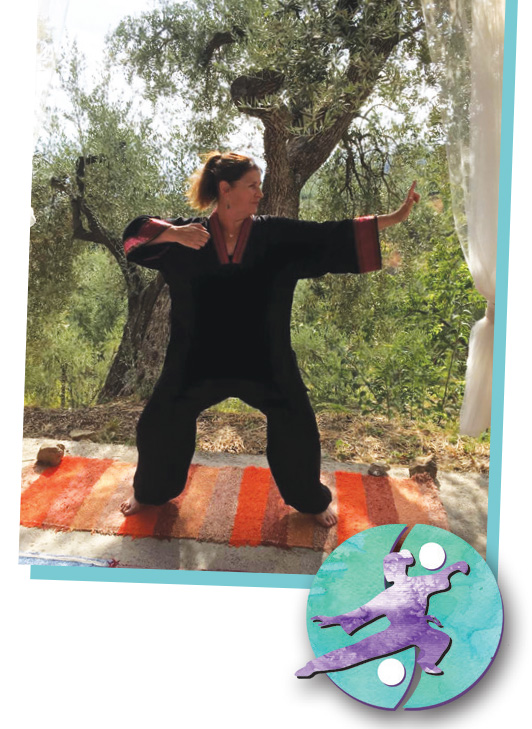 Join Pauline for a week-long wellbeing retreat where we will learn Qigong and use it to create balance in our lives with time to reflect, pause, enjoy and explore the beauty within and around us.
The setting is in the remote, un-spoilt village of Mairena nestled in the high Alpujarras region of the southern foothills of the Sierra Nevada mountains in Andalucia, southern Spain.
Pauline will ease you into a daily programme of Qigong and Meditation. There will also be an opportunity to practice Tai Chi. There will be a range of activities including local walks, visits to the olive mill and silk weaver, opportunities to forage fresh ingredients and cooking demonstrations showcasing the stunning local cuisine.
Of course there is the opportunity to simply sit beneath the scented jasmine by the plunge pool, or read your favourite book under the pomegranate tree, contemplate the incredible views and the unique flora and fauna of the Aplujarras, disturbed only by the sound of mountain streams and the magnificent bee-eater birds singing their harmonious tune.
This is a week where you can switch off, sit back, be at the centre of your own universe and let your cares slip away. This is also the time to let go of old habits and create new habits that will enhance your well being, create a personalised programme to take home and incorporate it in your daily life, to continue living your best life where ever you are.
Accommodation
Our accommodation is at Las Chimeneas - a hidden gem of exquisitely converted / renovated traditional village houses situated in one of the most energetically powerful spots in Europe. The houses are delightful, filled with light and have fabulous views across the hills to the sea in the far distance. The homely rooms are very comfortable; some shared, some single, all with en-suite bathrooms. Communal areas and nooks and crannies furnished with authentic antiques from rural Old Spain and lots of books together with an exceptional restaurant which will surprise and delight you with the fabulous quality of its freshly made seasonal produce.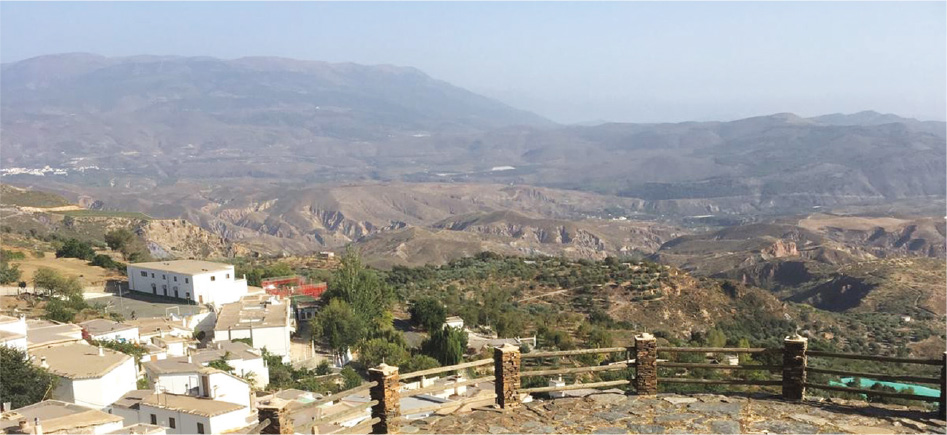 Owners David and Emma have a deep knowledge of and passion for the local area and above all supply peace and relaxation combined with a genuinely warm welcome. Perhaps it is this winning combination that led The Times to rate Las Chimeneas in their Top Ten in Europe's best mountain hideaways in the summer of 2018.

Our Week
Each day will begin meeting in the village square at sunrise as nature's Yang energy rises. We will walk to a Qigong session in the shala overlooking the Alpujarras, breathing in pure mountain air to nurture our Yang energy. The practice will consist of a warm-up, Qigong and a meditation.
After a shared breakfast there will be a chance to put on your walking shoes and take a leisurely walk through the hills maybe to a neighbouring village, have a coffee, sit and watch the world go by. On some walks we will explore Guo Ling or Walking Qigong.
If you choose, you can just find a comfortable corner and relax and assimilate the morning practice.
Throughout the week, Pauline will always be available to have a chat and help you create your own personalised take home routine for daily practice. A practice that will suit your individual needs and time constraints as well as your own plan for mind and body self-care.

Then there's lunch – all meals are prepared using fresh local produce, some from the Las Chimeneas organic farm. Some days we will take a packed lunch depending on the activity.
The afternoon is yours to relax by the plunge pool, journal, or read under the pomegranate tree have a massage or explore the natural beauty surrounding the white-washed walls of Las Chimeneas.
If you're feeling more adventurous, there are plenty of options to choose from - a high ridge hike, a local history talk & walk to the local church, a visit to the silk weavers and the olive oil press or learning to cook the Spanish way.
Each day, before a delicious dinner of the very best Andalucian cooking at Las Chimeneas' restaurant, there will an evening Qigong Session to move into the evening yin Energy and ensure a sound nights sleep.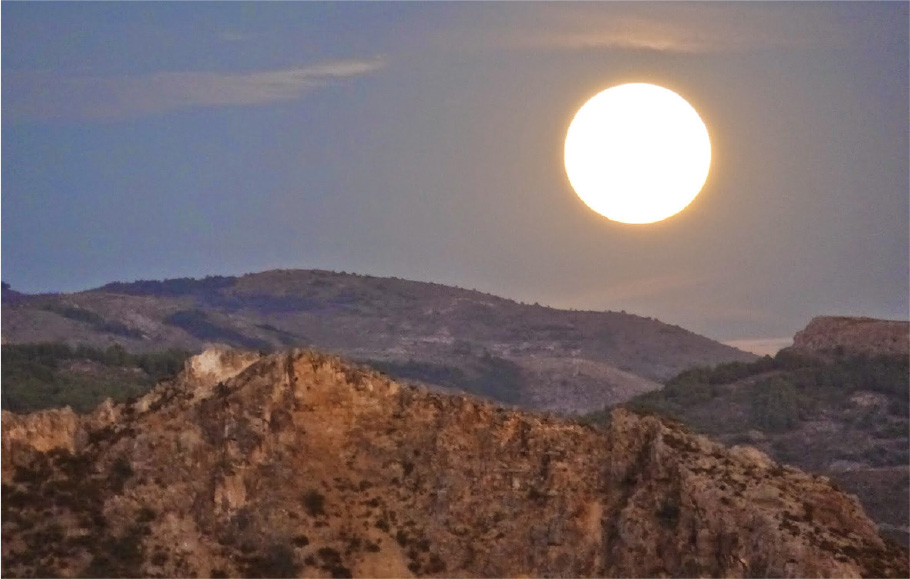 Essential Information
Please contact David & Emma at Las Chimeneas for all bookings and information on recommended flights and transfer times on info@laschimeneas.com
Price includes:
Airport transfer (single timed for group minibus)
Buffet breakfast, light lunch, three course evening meal
Three activities - eg. olive oil mill visit with chat about local olive oil production, visit to ancient mosque/ church with talk on local history and overlapping cultures, short cookery class with our Chimeneas chefs Sole and Conchi or visit to Lola's weaving and spinning workshop (to be decided with group leaders)
All tuition / use of studio, equipment etc
Extra excursions can be booked and paid for locally eg massage, longer cookery classes, guided electric mountain bike tour, group guided visit to Almeria or Granada

€780 per twin/double room at main site Las Chimeneas per person sharing.
€850 per single room at village cottage (La Ermita, Casa Iglesia or Vina y Rosales)
€960 per single room use of double room at main site Las Chimeneas.
Excluded: Flights, travel insurance. Please confirm you have your own adequate personal travel insurance. Massages. Alcohol and soft drinks.
Transfers: Please contact us to discuss our recommendations for your flight requirements.
Making your own way
By car: We are at Las Chimeneas, Calle Amargura 4, Mairena, 18494, Granada. Spain. 2.5 hrs from Malaga and Granada airports. 1.5 hrs from Almeria.
Food & drink: The stunning cuisine at Las Chimeneas is focused on vegetarian but we can cater for all tastes. Please advise on dietary requirements or any allergies at time of booking.
What to bring: An open mind and open heart. Light comfortable clothes, a light blanket or shawl for Meditation, comfortable walking shoes, a reusable water bottle, sunglasses and sun factor.
About Pauline
Pauline Russell has practised Qigong, Tai Chi and Meditation since 1982. All her life she dipped in and out of various styles and forms. While running her Fashion design business and feeling the effects of stress on the body she went on to follow her heart and begin to live her best life in 2003 when she made Qigong a way of life and did teacher training in the Infinite Arts, Qigong, Tai Chi and Meditation. She continued to educate her work and went on to study Guo Lin Qigong (walking Qigong). This brought her to a deeper understanding of the true power of Qigong. With almost 40 years experience, her passion for Qigong continued to grow, making it a way of life. She has now become a fully Qualified Senior Chinese Health Qigong instructor. Pauline runs classes, workshops and retreats in Ireland and Europe.
She says "I firmly believe that with practice and patience the Chinese Health Qigong forms can enhance all life, it's suitable for all ages and all abilities. Daily Practice is the Key and a Healthy Life is the reward."
Pauline is also a qualified Reiki Master and Magnified healing master instructor.