Painting with Peter Lawrence at Las Chimeneas
Tuesday 24th October - Sunday 29th October 2023
Painting with Peter Lawrence at Las Chimeneas, Alpujarras
We met Peter in March 2023 when he had just launched his fifth book, Impressions of Andalucía, with his co-author, Linda Decker. Linda, an award-winning writer who lives near Sayalonga, close to Nerja, had challenged Peter to prepare with her a travelogue of beautiful Andalucía putting his bold watercolour interpretations alongside her personal and creative writing about the people, places, flora and fauna of the region. Four years and three covid lockdowns later, the book was published and launched in Nerja. We are stocking and selling the book, which includes paintings of the Alpujarra region and a chapter on Granada. Best-selling authors, Chris Stewart and Victoria Hislop, who know these areas particularly well have contributed their own written impressions to the book.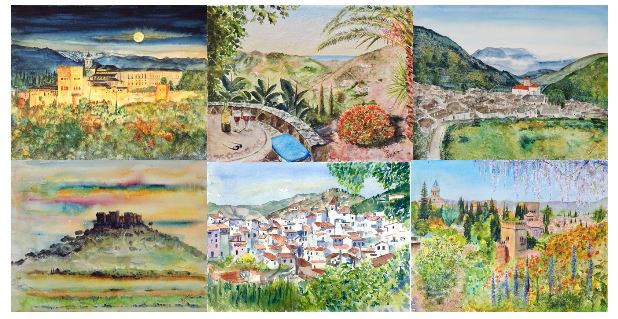 Peter has been inspired by many artists but particularly admires the approach of UK artists Michael Morgan and Ann Blockley, both of whom talk of painting "about a landscape" rather than trying to reproduce a photographic image. Peter encourages his students to enjoy watching the pigments come to life within the fluidity of the water and on the undulations of the paper substrate.
It seemed natural to ask Peter, who regularly conducts watercolour workshops in his UK studio in Somerset, to lead some painting courses as a part of the Las Chimeneas holiday offerings. Two dates have been planned:

24 to 29 October 2023.
This will include 4 full days of tuition and technique with some outings to local places of artistic potential for plein air painting/sketching as well as painting sessions in our large studio space. Peter will arrive on 24th in time for a first introductory session in the evening before and/or after dinner. This mightsuit residents of Spain who do not want to commit to a full "holiday week" but visitors from abroad will be equally welcome and may wish to extend their stay with us.

1 to 8 June 2024.
A full week of painting with Peter which will include theory and technique sessions in our studio. Visits to local areas of beauty or interest to sketch, paint "en plein air" and photograph as reference gathering for later studio painting.
The week will be full of fun and Peter will challenge participants to be bigger and bolder than they might have previously been.
Peter welcomes complete beginners as well as with those who just wish to develop and find new approaches to watercolour.
Prices
All prices include full board and accommodation and airport transport by group
minibus from Malaga airport by 2pm on day of arrival and to Malaga airport by 12pm
on day of departure. They do not include air fares or insurance.
October 23
5 nights
Single use of double room at Las Chimeneas €770
Twin use of double room at Las Chimeneas €635
Single room at village cottage - own bathroom €690
Single room at village cottage - shared bathroom €635
June 24
7 nights
Single use of double room at Las Chimeneas €1050
Twin use of double room at Las Chimeneas €860
Single room at village cottage - own bathroom €930
Single room at village cottage - shared bathroom €860
Peter will give advice on what to bring and is happy to respond to any queries you
may have. lispet@mac.com