Ashtanga Yoga & Pranayama Sadhana in depth with KIA NADDERMIER
Thursday 1st August - Sunday 11th August 2024
Ashtanga Yoga & Pranayama Sadhana in depth with KIA NADDERMIER

ASHTANGA YOGA & PRANAYAMA SADHANA IN DEPTH
10 DAY RETREAT IN SIERRA NEVADA WITH KIA NADDERMIER
SESSION 2: AUGUST 1-11TH 2024 (limited space left)
Join Kia Naddermier for a retreat in the magnificent mountains of the Sierra Nevada to deepen your practice and understanding of yoga as a whole – allowing its subtleties to unfold and blossom.
Arrival day is 1st August with a group transfer from Malaga airport at 13h and departure day is 11th August when a bus will drop off at Malaga airport at 12h noon for afternoon flights.
We open our mornings with seated Mindfulness meditation and Ashtanga Yoga Mysore Style classes, where you receive individual guidance from Kia. Some led classes focused on specific aspects of the practice will also be offered. Drawing heavily from traditional Buddhist- and Yogic teachings, afternoon sessions are dedicated to Philosophy, Satsang, Meditation and Pranayama. (For established Pranayama practitioners, Kia may offer pulse reading and individual progression of practices).
Kia will share her experience and guidance as we allow space for a daily practice of Ashtanga Yoga, Pranayama, Kriyas (yogic purification techniques), Meditation as well as Philosophy and Satsang. Integrating all aspects will take your practice to the next level of awareness, allowing its subtleties to unfold.
Alongside the yoga practice there will be optional activities including a day trip to Granada or the beach, vegetarian cookery with our local chefs, hiking in the mountains and, of course, hanging by the pool…
Run by the British couple David & Emma Illsley, Las Chimeneas is a truly authentic and unique pearl, located in one of the most beautiful and energetically powerful spots in all of Europe. The accommodation is lovely, with plenty of antiques, books, nooks and crannies. Many rooms have fabulous views across the hills to the distant sea. The food is delicious - organic, vegetarian, locally grown. Yoga classes are held in the outdoor shala which nestles in olive groves, overlooking the mountains and in the newly built village shala with magnificent views. This is a magical place to retreat, re-charge and give yourself space to deepen your practice.
The course is open to all levels of practitioners familiar with Ashtanga Yoga.
Prices run from 1250€ for all 10 days depending on room, including single timed 13h airport transfer from Malaga to our mountain village, accommodation, all meals, local activities and full yoga training.
For return fights on 11th August we offer a group transfer with drop off at 12h for flights from 14h or later
Please contact kia@mysoreyogaparis.com for details!
READ a lovely article by Neal Scott from last year in the Mountain Shala!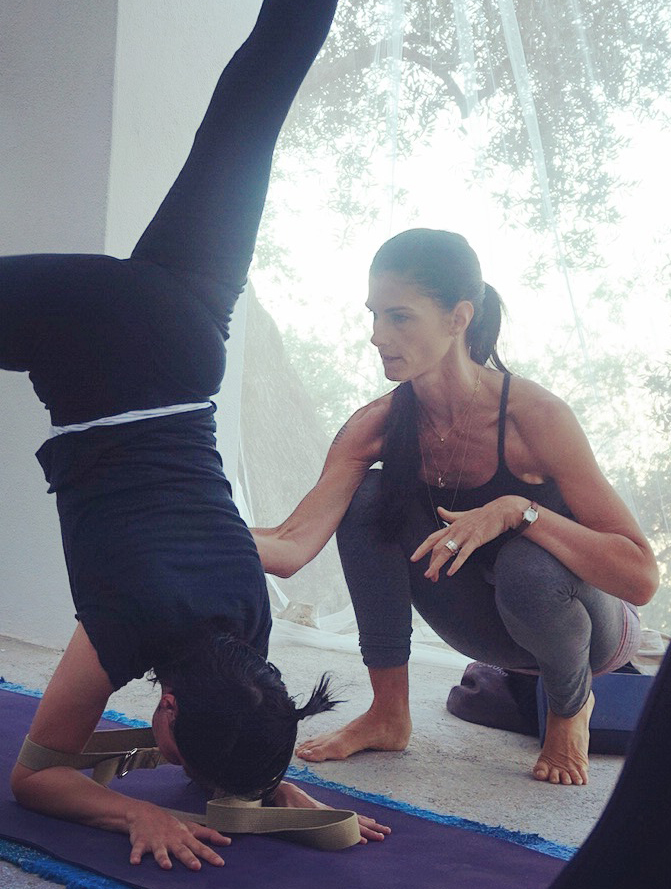 Yoga with Kia at Las Chimeneas
Booking and cancellation policy
To benefit from Early Bird discount the balance payment should be done before 31st January
If not, balance in full is due no later than 10 weeks before arrival.
Cancellation Policy:
Deposits: All deposits are non-refundable and non-transferable.

Full Payments: For places paid in full and then cancelled the following applies:
More than 10 weeks before the start of the retreat: 100% refund less the deposit.
10-6 weeks before the start of the retreat:50% refund less the deposit.
Up to 6 weeks before the start of the retreat:No refund will be given.
IT IS ADVISABLE TO TAKE OUT TRAVEL INSURANCE IN THE EVENT THAT YOU HAVE TO CANCEL DUE TO UNFORESEEN CIRCUMSTANCES.