MORO Master Class with owner Sam Clark
Saturday 5th October - Saturday 12th October 2019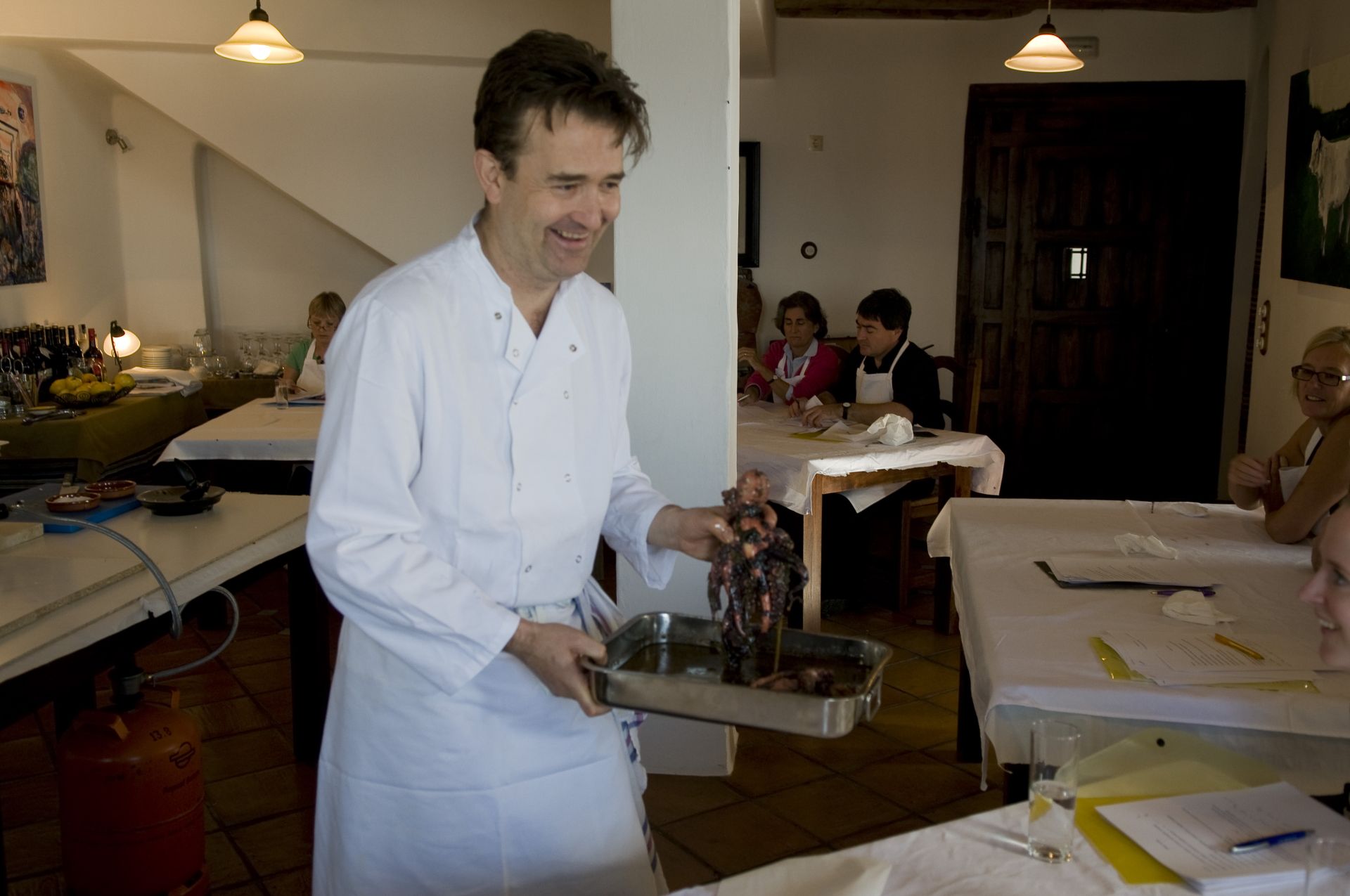 We're super pleased to be welcoming back our friend and gastronomic mentor Sam Clark, owner of the the celebrated Moro Restaurant in London. He'll be here in October with two other Moro chefs for a Master Class in which you'll observe spellbound how this this most skillful of Chefs and Teachers creates a sensational menu, before settling down to enjoy the product for yourselves that same evening. The self-effacing Sam is as charming and as gifted in the classroom as he is in the kitchen, and this week, we know from experience, will be amazing. On Day One we'll pick you up at the airport in Malaga, and transfer you back to Mairena in a large and comfortable air-conditioned coach. There follows a week of cooking sessions, interspersed with outdoor lunch at our finca with its woodfired oven, and as much walking as you fancy. This includes plenty of foraging - the terraces will be alive with figs, pomegranates, grapes, almonds, walnuts and herbs - all guided of course by local experts, and with 4x4 support.
Meanwhile, there will be the opportunity for those who wish to visit Granada for the day, again in the company of a guide. You'll be able to see the gardens of the Alhambra, and a wander around the less touristy old town, with lunch at the lovely market, and coffee-with a-view high up in the Albaicin.
It will be, we're absolutely certain, a perfect holiday for you: you'll relax, you'll learn stuff, you'll eat wonderously well in the hands of a seriously top chef, and with all that walking you won't pile on the pounds..........I mean, really, what's not to like ?
The price is 1075 euros per person.
There will be a maximum of 16 people in the group.
Cancellation Policy:
Deposits: All deposits are non-refundable and non-transferable.
Full Payments: For places paid in full and then cancelled the following applies:
More than 2 months before the start of the course: 100% refund less the deposit.
4 to 8 weeks before the start of the workshop: 50% refund less the deposit.
Up to 4 weeks before the start of the workshop: No refund will be given.